Bradenton Poinsettia Nursery Produces a Sea of Red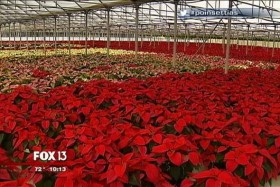 BRADENTON (FOX 13) -They're a colorful display of Christmas, and it turns out, many of the poinsettias on sale this year are produced right in the Bay area's backyard.
Christmas spirit in full bloom at Orban's Nursery in Bradenton. This week is the nursery's busiest of the year, as crews spend sun up to sun down hauling and shipping poinsettias they've spent months preparing for sale.
"It's a lot of work. Someone has to be here on the weekends, watering and checking on the plants," owner Marty Orban said Wednesday.
But for the Orbans, the beauties are basically family. Marty's dad started planting poinsettias back in the 1940s, when he moved the family business to Bradenton.
"People would come to me and ask, 'Can you grow some for me?' Our production doubled every year," Bill Orban said.
The rest is history. The nursery now produces 160,000 of the plants each year. Crews start by planting poinsettias in early summer.
"It starts with a little cutting off of what they call a mother plant. Most of them come out of Central America, South America," Marty Orban said.
Months later, they blossom into a vibrant show of reds, pinks, and whites.
"It's always kinda exciting to see it first show some color," Marty Orban said.
They've got plenty of colors to choose from. Orban's produces 54 different varieties of poinsettias. Most are sold to Publix stores across the southeast.
It's business for Marty Orban, but it's a job that still takes his breath away with every year's bloom.
Lucky for us, Orban's Nursery looks like it will keep producing those beautiful poinsettias for years to come. Marty's son is preparing to take over the family business, which started back in 1914.
Watch Video: http://www.myfoxtampabay.com/story/24139775/2013/12/04/bradenton-poinset?autoStart=true&topVideoCatNo=default&clipId=9600962
Read more: http://www.myfoxtampabay.com/story/24139775/2013/12/04/bradenton-poinset#ixzz2nN5LFiBh