Bill Orban named Manatee County Agriculturist of the Year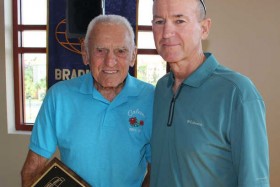 BRADENTON — The Orban family, known for the blazing sea of 100,000 red poinsettias they grow and the holiday tradition those flowers spawned — the annual drive-through of their Northwest Bradenton nursery — now has a new claim to fame.
Family patriarch Balazs "Bill" Martin Orban, 90, has been named Manatee County Agriculturist of the Year for 2013.
Orban, who has grown flowers in Manatee County since 1952, said he was completely surprised by the honor, presented Tuesday during the annual Farm City Week Luncheon, hosted by the Bradenton Kiwanis Club. The announcement was made at the Manatee Performing Arts Center.
"I feel like my son, Marty, should share this award," Orban said afterward. "I've enjoyed it all."
Brenda Rogers, chair of the Kiwanis Agriculture Committee, announced the award, always a closely guarded secret until the luncheon.
Orban moved to Florida in 1952 to grow flowers and ship them to his greenhouses in Ohio. He was hired as a chrysanthemum grower by Manatee Fruit Co. in 1955, and in the 1960s started growing poinsettias for his Holmes Beach garden center, The Flower Garden.
His flowers soon were selling in garden centers throughout Manatee-Sarasota and in groceries and retail garden centers along Florida's west coast.
Among his contributions to agriculture was working with scientists to develop poinsettia varieties and best management practices for irrigation and retention of runoff, Rogers said.
Orban also supported local students by participating in programs that allowed them to earn school credit through on-the-job training, and his mentoring of college grads, she said.
Orban's family came to the United States from Hungary and he grew up in Ohio, graduating from Ohio State University.
During World War II, he flew B-24 bombers on missions to France and Germany.
"His friend Jack Whitaker stated that if Bill thinks you are out of line, he would give you a blistering talk-to in the Hungarian language. You did not understand a word, but fully received the message," Rogers said.
"While he is most known for his poinsettias, Bill Orban has made a lasting mark on Manatee County," Rogers added. "His legacy and contributions will be reflected in the Manatee County Agricultural Museum."
Orban's Nursery's 23rd annual Poinsettia Drive-Through and Sale is set for 9 a.m.-3 p.m. Nov. 30 at 9601 Ninth Ave. NW.
Also being inducted into the Agricultural Hall of Fame this year is the late J.T. Reeder, whose selection was announced earlier this year. Reeder was one of the founders of Reeder Farms and Manatee Airport, north of Palmetto. The formal induction for Reeder is set for Thursday in Palmetto.
Remaining events this week include the Farm Tour on Friday.
Ralph Garrison, also a nurseryman, and former president of the Manatee Farm Bureau, said agriculture cements the base of Manatee County's economy.
Manatee ranks ninth in the state in agricultural commodities produced, and ranks first in tomato production, he said.
The purpose of Farm City Week is to raise awareness in the broader community of the importance of agriculture.
"There is no longevity in a community that does not know its heritage," Garrison said.
James A. Jones Jr., East Manatee reporter, can be contacted at 941-745-7053 or on Twitter: @jajones1
Read more here: http://www.bradenton.com/2013/11/20/4840144/bill-orban-named-manatee-county.html