27th Drive-Thru and Sale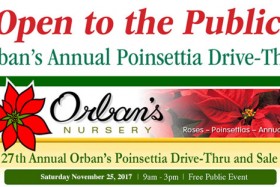 Saturday, November 25, 2017 | 9am-3pm | Free public event
Be sure to bring your camera!
Orban's Nursery is open one day only for the public to see over 100,000 blooming poinsettias before they are shipped to garden centers for the holidays. This is a rare opportunity for the community to visit our nursery, take photos and purchase holiday plants.
A portion of the proceeds to benefit charity.
Poinsettias are traditionally grown for the Christmas holiday season, however, they are also used as landscape plants in south and central Florida. Produced in a variety of sizes with decorative pot covers and protective sleeves, our Poinsettias are available at select stores and garden centers throughout Florida.
Inquire about our Poinsettia Fund-Raiser Programs
Many organizations like schools, churches and non-profits have sold Orban's poinsettias as an easy, profitable holiday fund-raiser. They practically sell themselves during the holiday season. Our poinsettia specialists will help you create a program to help reach your financial goals.